Showering Solutions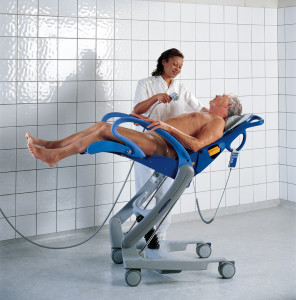 Call today. Let us help you lift your spirits and your loved ones.
Call 714-264-4685 for pricing in California & South-Eastern US.
Carendo Hygiene Chair
The Carendo is a height-adjustable multipurpose hygiene chair that solves many of the issues associated with showering less-able individuals.
The individual rests in a comfortable and safe position, while the caregiver can perform all hygiene from head to foot in an ergonomically correct way.
With the Carendo, one single caregiver can take care of all hygiene routines in the bathroom, without any help or additional equipment.
The individual can be placed in a reclining position, giving optimal access to most parts of the body, including the normally inaccessible groin area. The Care Raiser function enables lifting the lower part of the individual's body, which gives easy and discreet access for sensitive tasks, allowing care with dignity.
After showering, the buttocks can be lifted clear of the seat to allow complete drying of the perineal areas. This function also makes it easy for a single caregiver to undress and dress the individual allowing for fully clothed transport.
Available for new purchase or rental (only one available for rental at this time).
Call for pricing. This item is not covered by Medicare or other insurances.