Pressure ulcers are a common and recurring problem for some members of the population.  Our mattresses offer the most advanced and clinically proven way of preventing or healing pressure ulcers on the back or buttocks areas. We are  able to offer mattresses for rental or sale.
TRINOVA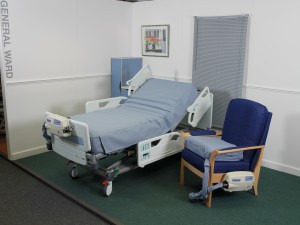 The TRINOVA is one of our top of the line rental mattress replacement that offers around-the-clock care for the prevention and treatment of pressure sores.  The three-cell, two layer design offers superior support in at risk key areas of the sacrum and heels. The 7.5 minute cycle is proven to completely eliminate pressure over one third of the body at a time. The delivery of regular intervals of ZERO PRESSURE therapy will accelerate wound healing while offering exceptional comfort and healing. Note: The chair cushion show is not available.
Available for Rental only. Call for pricing.  We do not take Medicare or other insurances for this mattress.
DFS3 / NIMBUS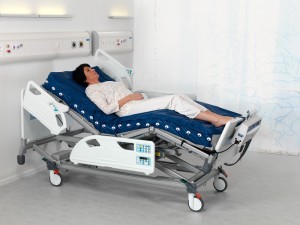 The DFS3/NIMBUS has been clinically proven to be one of the most efficient,  comfortable, and cost effective pressure relieving mattress replacement systems used in hospitals and nursing homes throughout the world.  True dynamic systems provide effective alternating pressure relief with automatic adjustment to weight, size and position of the individual ensuring optimum pressure relief and comfort. We are now fortunate to be able to offer these mattresses for rental or sale (NIMBUS 4 shown).
Available for Rental only. Call for pricing. We do not take Medicare or other insurances for this mattress.
Auto Logic 200 System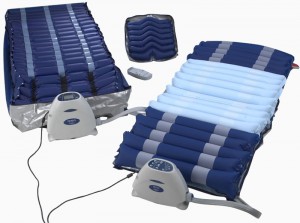 The Auto Logic 200 mattress replacement and Aura Logic seating system are part of the new logic range from ArjoHuntleigh.  Leading edge technology provides an automatic, self setting mattress replacement and seat cushion. The complete Auto Logic range is recommended for round-the-clock prevention and management of up to stage IV pressure ulcers. An optional battery is available that offers up to 6 hours of non-AC usage for transport with the Aura Logic.
Alpha Response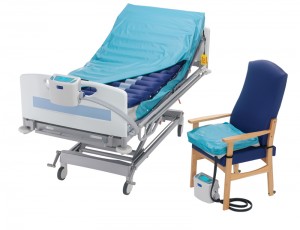 The Alpha Response system is a semi-automatic pressure redistribution solution that is clinically proven and offers value for the money. The mattress features technology which allows the user to increase pressures, providing additional support and optimal pressure redistribution when the patient is raised into a seating position. The system offers two therapy modes: Active  (cells alternating every 10 minutes) and Reactive (constant lower pressure). An optional seat cushion is available but unlike the Aura Logic is not battery powered.