Standing and Raising Aids (SARA) are also known as "Sit-to-Stand Lifts".  These versatile pieces of equipment are easy to use and are designed for individuals with reduced mobility and physical strength who are unable to raise themselves independently.   Individuals must be able to weight bear and have a degree of self support. At this time we are able to rent both the SARA Lite and SARA 3000.
Call 714-264-4685 for availability and pricing.
SARA 3000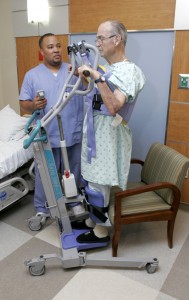 The SARA 3000 with a maximum safe working capacity of  440 lbs.  has been designed to provide a safe, comfortable environment for transfers. The Deluxe Comfort Sling with its padded under arm bolsters and slip resistant back offer the individual a comfortable and secure attachment to the unit.  Along with the support of the kneepad and footplate the individual always feels secure. The powered adjustable chassis legs can be opened to provide better access to a wheelchair, chair, or toilet. The SARA 3000 can also be used for beneficial standing exercises. It helps to improve the quality of life for individuals by building a simple way to maintain mobility into regular handling routines. An optional scale is available.
Available for new purchase or rental.  Call 714-264-4685 for pricing. This item is not covered by Medicare or other insurances.
SARA Lite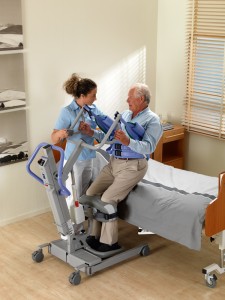 The SARA Lite is a less costly alternative to the SARA 3000.  The maximum safe working capacity is 385 lbs.  It uses the same Deluxe Comfort Slings. The visible differences are the design of the grips and soft leg support/kneepad. The scale option is not available for this unit.
SARA Plus
The SARA Plus is an advanced standing and raising aid with a maximum safe working capacity of 420 lbs.  With unique features, the SARA Plus increases and extends the benefits that can be achieved by using a standing and raising aid.  This standing and raising aid is designed for balance, stepping, and walking training. Remove the footplate and leg support and the SARA Plus becomes a platform for exercise sessions.  In addition to the basic standing sling, a special BOS sling enables standing in a more upright position. This is more favorable for rehabilitation. The transfer / walking sling supports individuals who need to be transferred in a seated position, and is also ideal for walking exercises. An optional scale allows weighing during the standing process. Without the foot support in place the scale can show the level of weight bearing capacity.
Available for new purchase or rental (only one available for rental at this time).  Call for pricing. This item is not covered by Medicare or other insurances.