Permanent and Portable Ceiling Lifts by ArjoHuntleigh
Ceiling Lifts are the ideal solution for handling individuals with safety and dignity.  ArjoHuntleigh offers two types: Permanent and Portable.
A permanent ceiling lift is the ideal solution for the family that is planning on being in the same home for a long period of time.  KWIKtrak's low profile design blends nicely into any room decor.  A simple straight track design provides basic point to point transfers.  The addition of curved track allows access to the bathroom for toilet and bathing needs.  Optional turntables, exchangers and gates eliminate almost all mobility barriers and allow the lift to be used to its fullest potential.
The portable system has a freestanding aluminum rail that is easy to assemble and level insuring correct placement of the legs. This system is primarily designed for smaller spaces and point to point transfers – wheelchair to bed, bed to chair, even in the bathroom.  Also available using similar rails are floor to ceiling pressure fit systems and wall mounted systems which are considered semi-permanent.
NOTE: All ceiling lifts are designed to be used with the assistance of a caregiver. It is only under rare exceptions that they can be used solely by the client.
EasyTrack FS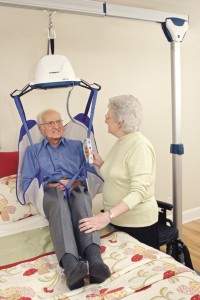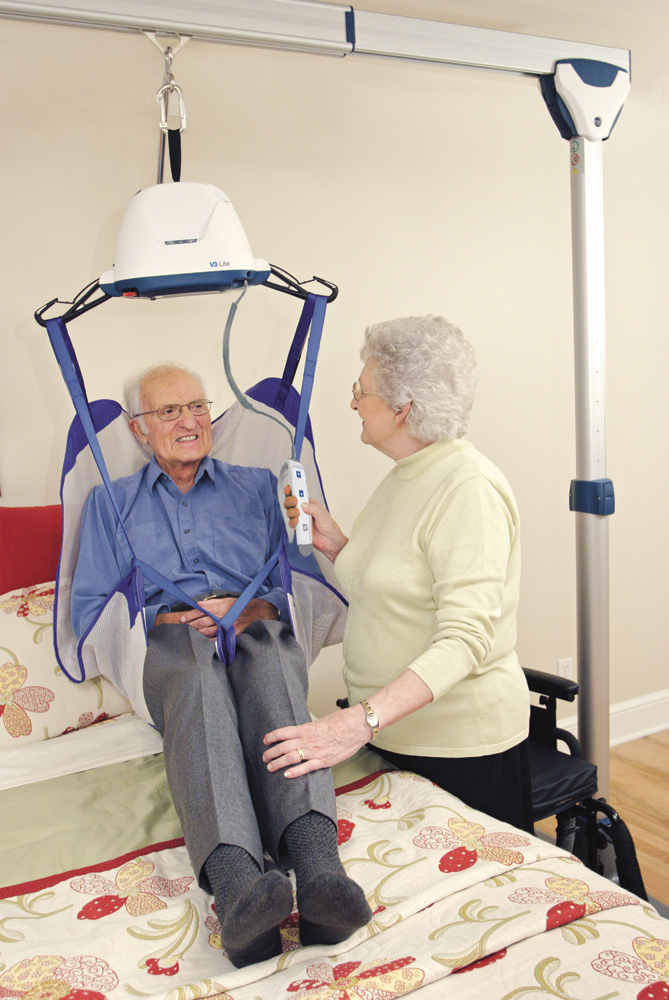 The Easy Track FS is a free standing solution for all types of point to point transfers – wheelchair to bed, bed to chair, and bathroom.  The Easytrack FS has a safe working load of 440 lbs.  The lightweight aluminum bases feature adjustable levelers to ensure that the unit is stable when assembled.  The posts have been designed to be self-aligning. The rail can be extended up to a width of 9.5 feet.  The portable battery-powered rechargeable lift is used to gently lift and assist you in the safe and secure transfer of your loved one. Note: shown with V3 / Maxi Sky 440.
Pressure Fit and Wall systems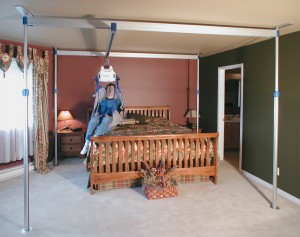 Using the same lift additional systems can be designed which are of a more permanent design but are easily removed when necessary. These systems can range from a simple 2 post, 3 post with pivoting 3rd track, 4 post with moving 3rd track (shown) pressure fit system.  Same options with wall brackets, or a bath adapter.  Note: shown is the VOYAGER lift.
Voyager Duo
The Voyager Duo is a fixed ceiling lift which allows the caregiver to perform safe lifting with less effort during the transfer of a patient with reduced mobility.  The Voyager Duo has a lifting capacity of 220 lbs. and offers an option to change the initial lifting capacity to a higher 440 lbs.  The new handset is ergonomically designed and the casing allows for some water protection.  The lift is available either as a 2 function unit (raises and lowers patient) or 4 function (raises and lowers patient and propels itself forward and back on the track). It comes with a built in charger and can be programmed to  return to the charging station when done.
Maxi Sky 440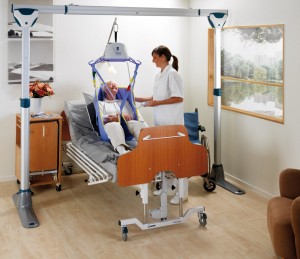 The Maxi Sky 440  combines the features of a fixed system with the benefits of maximum flexibility.  Weighing just 14 lbs.  the compact lift cassette, with its folding sling hooks and integrated carry handle, is easy to move  from room to room. Using an additional strap called the Tarzan hook allows smooth and easy transfers between track systems or rooms. Note: The previous version was called V3.
Maxi Sky 600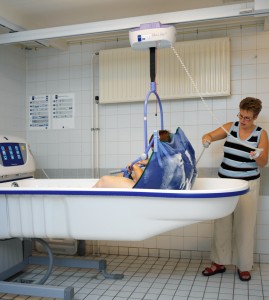 The Maxi Sky 600 is a fixed system lift.  The cassette has a lifting capacity of 600 lbs.  It is available as a 2 function (raises and lowers patient) or as a 4 function (raises and lower patient and propels itself along the track) unit.  It comes with a charging station and can be programmed to return to the charging station once the job is done. This ensures that the cassette is fully charged and ready to be used.
Maxi Sky 1000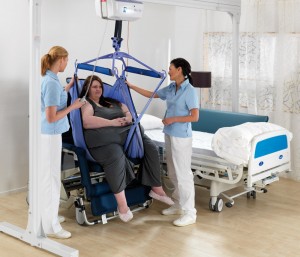 The Maxi Sky 1000 offers a complete ceiling lift system specifically designed to facilitate safe and dignified transfer of non-ambulatory bariatric clients.  The sophisticated and easy-to-operate system allows a single caregiver to perform transfers using the hand control without stress or strain and with no manual lifting.  You can have a choice of a ceiling mounted track system or a portable gantry rated to 1,000 lbs. giving you flexibility to meet any requirement.